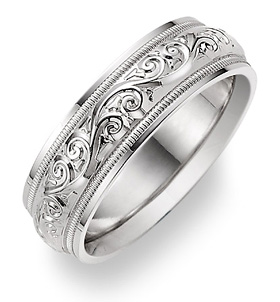 Gold is the most popular metal used in wedding bands today, and white gold wedding rings make up a large percentage of the bands that are exchanged between a bride and groom. White gold is stronger than silver and more affordable than platinum, making it a practical, beautiful and extremely popular choice for wedding rings.
Even in its most basic form, the wedding band symbolizes love that doesn't end. In addition to a selection of plain white gold bands, Apples of Gold offers several styles that put unique yet simple twists on classic styles:
The Concave Wedding Band curves inward rather than outward for a current take on the traditional.
The 14K White Gold Wedding Band with Brushed Center combines polished edges with a more subdued center.
Several flat wedding bands give a modern edge to the classic ring.
Hammered white gold wedding rings are suitable for both men and women, and come in several variations.
Some white gold wedding rings are unmistakably feminine, and Apples of Gold carries many styles of bands for exclusively for women, including:
The Paisley Design White Gold Wedding Band Ring features a detailed carved motif over a brushed center and high polished edges.
The Floral Vineyard Wedding Band is truly unique, with an engraved vine and floral pattern.
Several styles of white gold wedding rings add additional significance to symbolism present in every wedding band. For example:
Apples of Gold's Wedding Vow Ring gives you a unique way to remember the promises you make at the altar. A selection of wedding vows—or one of your own—is laser-engraved on the inside, as a constant testament to your commitment.
The Bible Verse Wedding Band Ring offers a reminder of your commitment, not only to your spouse, but to God. Choose one from our list of verses or pick one that holds special meaning for you.
14K White Gold Wide Braided Wedding Band symbolizes two lives being intertwined in unity, becoming stronger together than they were apart.
Apples of Gold's Celtic wedding bands also add symbolism to several styles of white gold wedding rings. Celtic knots, which have no beginning or end, have been recognized as symbols of eternity and unity.
White gold wedding rings are popular for their beauty and versatility. Whether you're looking for a classic plain band, a variation on a classic, a decidedly feminine design or a piece that holds special significance for you, white gold is an excellent choice.