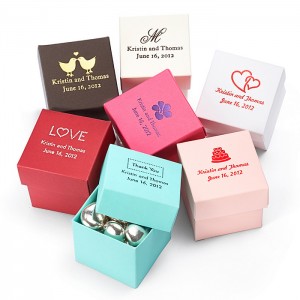 TheKnot Wedding Shop is one of the most inclusive websites offering wedding favors, gifts, wedding invitations, and accessories for all of your wedding needs.
For a big brand e-tailor like TheKnot, you would think that prices would be somewhat high, but they are surprisingly not. They accept competitor coupons and have an every day price match guarantee.
They also carry personalized holders & accessories like the colorful, creative wedding holders (shown left). As of 2012, the price for these is about $1.40 per box with personalization!
I was married before I learned of TheKnot.Com; if I had to do it over again, I would definitely go through them for as many of my wedding favors and accessories as possible. Shopping is easy, selection is vast, and prices are cheap!
You may not be able to order your wedding cake or find your wedding bands at TheKnot shop, but you can pretty much find just about everything else!