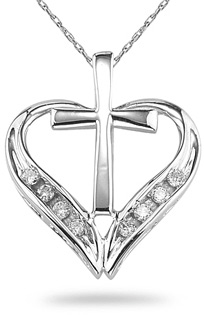 Romantic jewelry has been used since biblical times as an expression of affection. Diamonds, hearts, gemstones and personalized pieces all say "I love you" and show your special someone that you cherish her. Romantic rings, pendants, bracelets and earrings are available in designs for any style, so you can show your love with a gift she'll adore.
They say that diamonds are a girl's best friend, but they can also be a guy's best friend when he wants to show his sweetheart that he cares in a big way:
Here are some romantic jewelry gift ideas that shine:
The Cross and Heart Diamond Pendant in 14k white gold melds a symbol of faith with a symbol of love, accented with eight diamonds.
For a show-stopping expression of love that puts a modern twist on the traditional diamond ring, consider the Solitaire 1 Carat Black Diamond Ring in 14k white gold.
The heart is a classic symbol of love, and it's commonly used in many styles of romantic jewelry:
The Follow Your Heart Sterling Silver Pendant depicts a graceful heart within a heart and comes with an 18" chain. It's part of the Sentimental Expressions collection, each of which includes a poem card.
The Heart Shaped Blue Topaz and Diamond Ring in 14K white gold features a stunning blue topaz stone shaped like that time-honored symbol of love. Prong-set diamonds beautifully complement this eye-catching gem.
From King Solomon's beloved to the Duchess of Cambridge, women throughout history have worn gemstones bestowed on them by the men that love them. Apples of Gold's gemstone jewelry collection features both precious and semi-precious stones and has options for any budget: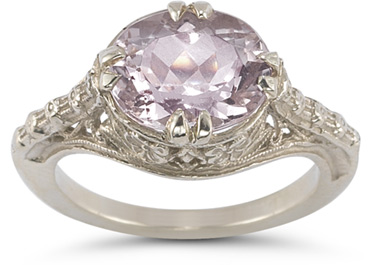 The sterling silver Vintage Rose Kunzite Ring calls to mind the beauty of the past with a unique stone in a Victorian-style setting.
Gemstone stud earrings with your choice of gemstone allow you to pick a stone that matches her personality or holds special meaning, such as her birthstone.
Pieces with a personal touch show that you put some thought into giving a gift that's a perfect fit. The Sterling Silver Custom Stamped Bangle with Secret Inscription lets you send a personalized message that's for her eyes only. This bracelet is just one of Apples of Gold's romantic pieces handcrafted by artist Kira Ferrer in her studio on the island of Maui.
Romantic jewelry is a lasting expression of your love. From diamonds and gemstones to hearts and personalized options, there's a piece to make your special someone melt.