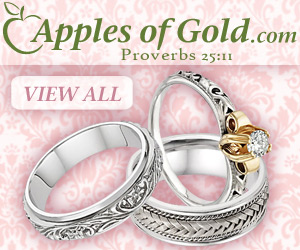 You could spend weeks browsing all the websites that sell jewelry. While the number of online jewelry sellers is vast, several popular jewelry stores stand out for their commitment to quality, style and customer service.
Here's the scoop on three top online jewelers:
Apples of Gold (applesofgold.com): Apples of Gold specializes in fine gold jewelry, wedding bands, diamond rings, and gemstone rings, and also carries a large selection of Christian and personalized jewelry. In addition to jewelry staples, Apples of Gold offers many pieces that are a little out of the ordinary, extraordinarily stunning or hard to find—all at an average of 40 percent less than retail prices.
As a self-described "small business with a big heart," Apples of Gold is committed to integrity, reliability and honesty, both in the jewelry they sell and in their interaction with customers. They focus on high quality, fine craftsmanship and personal customer service without cutting corners. They offer free shipping on all orders and are committed to excellent customer service. Every piece they sell comes with a 100 percent customer satisfaction guarantee and a 45-day return policy.
Blue Nile (bluenile.com): Blue Nile strives to make choosing an engagement ring simple and understanding diamonds easy. They're the largest online diamond retailer, though they carry a variety of fine jewelry. Blue Nile offers many options to "create your own" jewelry by choosing a stone and a setting to create pieces that are uniquely yours. Like Apples of Gold, they're also committed to exceptional quality and craftsmanship.
Blue Nile provides their customers with diamond and jewelry consultants who answer questions and help you find the piece that's right for you. Since these consultants don't earn a commission, they offer pressure-free advice. Blue Nile also offers their customers a wealth of educational information on their website. Their jewelry is shipped for free and returns are allowed within 30 days.

Max and Chloe (maxandchloe.com): Max and Chloe offers an extensive selection of jewelry, from classic engagement s rings to trendy statement necklaces. Their vast collection includes fashion jewelry and fine jewelry, including bridal jewelry, silver and pearls. They sell pieces from hundreds of designers and have the largest selection of fashion and personalized jewelry online.
Max and Chloe provides their customers with far more than the basics. Their up-to-the minute trends section gives fashionistas a wealth of ways to get their jewelry fix.
These three online jewelers are popular for a reason. Their selection, quality and service make them stand out from the crowd.