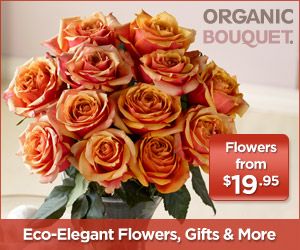 Why Organic Flowers?
You can never go wrong with flowers: it's rare that you get flowers shoved back in your face. And making up with flowers certainly helps assuage hurt feelings. But Organic Flowers?
When it comes to our food, some of us have come around to purchasing organic. But sustainably-grown flowers? It may seem trite to some, but many people are sensitive to pesticides and chemical fertilizers used to grow flowers. And they don't exactly want to take a big 'sniff' of it when you send them a big, beautiful bouquet of fresh-cut flowers.
One website, Organic Bouquet, seems to agree. They offer "Scent-Sational" Organic Flowers at no more expense than any traditional online flower shop. And their selection of organic bouquets are truly sensational!
You can even shop for organic flowers by season or occasion, including: Christmas, Hanukkah, Valentine's Day (of course), birthdays, anniversaries, births, weddings, sympathy, romance, or Just Because. They even offer gift certificates.
Among traditional roses, lilies, and mixed flowers, they also offer seasonal wreaths and plants,  and gourmet gift baskets. Or get really romantic with a 6 month gift of organic flowers delivered directly to your love's front door and straight to her heart.