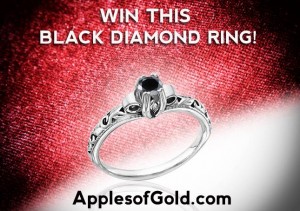 Want to win a striking black diamond Art Deco ring? Until the 4th of July, you just might be able to! Apples of Gold's current jewelry sweepstakes is giving you the chance to score an eye-catching piece of the past with a contemporary touch—just head to http://applesofgold.com/jewelry-sweepstakes/ to enter!
The gorgeous 1/4 Carat Art Deco Black Diamond Ring that you could win provides a unique combination of old and new, as a modern twist on a timeless stone serves as the centerpiece in a style inspired by times gone by. The silhouette of the elegant band captures the sensibility of the 1920s, a simpler time, yet one that buzzed with excitement. Lively leaves and swirls adorn the band of this 14K white gold ring, pointing the way to the smooth, gleaming petals of an opening lotus flower. This beautiful example of the designs of the 1920s is unmistakably vintage and yet perfect for the present.
While this ring stands out for its setting alone, the stone that shines as its focal point renders it truly extraordinary. A quarter carat round black diamond peers out from the center of the shining lotus flower, emerging from the middle of this lovely blossom. This deep-hued stone gives this ring a sense of mystery as it uses its dark, rich gleam rather than colorless sparkle to draw eyes. Though this stone may not be as traditional as its white counterpart, it's just as versatile and possibly even more glamorous. Like all black diamond rings, this piece possesses a sense of intrigue and sophistication.
This black diamond art deco ring could serve as a unique engagement ring as well as lovely piece for your right hand. This ring's unique style and chic stone make it an ideal piece for celebrating that your love is far from mundane. And, its time-tested style allows it to symbolize that your relationship is made to endure, and that it only gets more beautiful as time goes by.
Although this ring has a retail value of $725, Apples of Gold offers it at the everyday value price of $475.  However, until the end of the sweepstakes, you can get an even better deal: just enter the coupon code "BLACK" when you check out, and you'll score an extra 15 percent off! (That's less than $365!) In addition to the quarter-carat style that's up for grabs in this sweepstakes, you can opt for the same setting with a half-carat or one-carat stone.
And, be sure to look at Apples of Gold's full collection of black diamond jewelry, which includes over 70 rings, pairs of earrings and pendants. Whether you're in search of the perfect ring with which to propose, a striking statement for your right hand, a pair of chic, versatile studs or a necklace that's sure to turn heads, there's a black diamond piece that's a good fit.
The winner will be chosen this Friday, and it might be you! Don't miss your chance to win a stunning black diamond Art Deco ring, whether for yourself or someone you love!