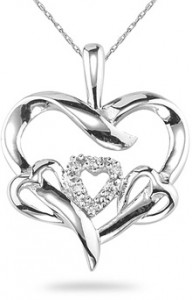 If you're a regular reader of Romance Tracker, you already know that there are literally hundreds of different ways to say "I love you" to your boyfriend, girlfriend, wife or husband. Whether it's with actions, romantic competition, or even romantic text messages, true romantics have an endless amount of romantic ideas to show that special someone that they love them. Finding ways and ideas for saying "I Love You" is the easy part. But actually telling a person that you are in love with them for the first time can be a little . . . intimidating, even for the most romantic among us.
So, are there secrets to saying "I love you" for the first time? Of course not. If you're nervous about telling that special person about your romantic feelings, first remind yourself that lovers have heard those three words for the first time under countless circumstances and in a million different ways. And do you know what? If two people are truly in love, they won't care one bit about when or where or how those words were said for the first time.
Whether it's on a romantic beach, at a busy airport terminal, or written in a love letter, that first "I love you" is something that every person remembers for the rest of their lives. If you feel that it's the right time and place to finally say it, even a greasy old diner will seem like the most romantic place in the world when you both think back on it.
But how will you know when it's the right time to say "I love you?" Can you say it too soon? Well, yes, you can. Obviously, telling someone you are in love with them on a first date might come across as a little . . . weird, and it's unlikely your sentiments would be returned. A truly romantic relationship or marriage needs to develop slowly, and if you feel that there's a reason to rush things, you may want reconsider your motivations.
If you find yourself falling in love with someone but feel that it's a bit too early to say it, there's nothing wrong with letting the relationship continue to develop and waiting for the perfect moment to state your love. Don't be too eager . . . and remember that the perfect moment could pop up any time and surprise you both.
Some people who feel the time is right, however, may want to have more control over the circumstances and not leave it up to chance. Actually planning out how you'll say "I love you" can be worth the time and effort. The place where you went on your first date, a romantic weekend getaway, or even at the end of a well-planned, fun event are all great places and times to let that special someone know you love them.
One important thing to remember: never tell someone you love them for the first time expecting to hear the same thing back. Being told "I love you" can be a very breathtaking event for some people, and even if they share the same feelings it may be difficult for them to say it back right away. Simply say the words because you want to say them–don't press for a response or act disappointed if your sentiments aren't returned. Be patient, and prove your love to that person by dedicating yourself to the relationship and making it easier for them when they are ready to say "I love you" back.
The most important word to remember, then, is patience. Patience to nurture and develop your romantic relationship, patience to wait for the right time and place to say "I love you," and patience in waiting to hear "I love you" back. With a lot of patience and a little bravery, you'll succeed in creating a romantic memory you and your soon-to-be wife, husband, boyfriend or girlfriend will remember together for years to come.