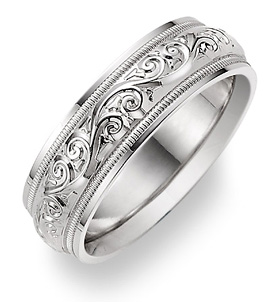 The Perfect Wedding Band Just Got Affordable
Thanks to Apples of Gold, premier online jeweler, whose diverse selection of wedding bands puts buying power in the hands of its customers.

Wedding Bands from Apples of Gold
Unique, individually-made wedding bands such as the 14k White Gold
Paisley Wedding Band
pictured left, is a quality piece starting at $775.00. No, Apples of Gold does 
not
offer cheap. But they are not pricey either! They deliver value and quality jewelry that just about everyone can afford. We are talking about gold here–gold prices have risen substantially over the past decade, and to get a uniquely made piece of gold (in the form of this stunning wedding band ring), is nothing short of remarkable.
Apples of Gold offers other bands also at such as braided wedding bands starting at around $575 (as of 12/2011 – prices do go up & down, based on the gold market), but Apples of Gold promises to stay well under established retail prices for all their jewelry.
Our Rating? "A" for Apples of Gold, and A+ for quality and affordability on their wedding bands. Bravo, Apples of Gold! You deserve it.
About the Paisley Wedding Band: A note about the ring pictured above–it is made in 14k white gold at approx. 7.6mm wide and 2mm thick. There is also an 18k white gold version, and a two-tone gold version as well. All of Apples of Gold wedding bands can also be ordered in diverse colors, such as yellow gold or you can request various precious metals such as platinum. This one is all comfort-fit and can be personalized with an engraving. All of their wedding bands can also be ordered in 1/4 sizes and each ring comes with a 45 Day 100% Return policy and a 1-Year manufacturer's warranty. And they even throw in free shipping! Yes, Apples of Gold is a keeper!