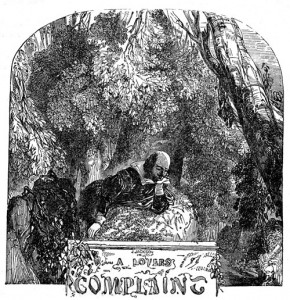 When one thinks of famous romantic love poems, Shakespeare clearly comes to mind–as he should! But among the best poets whose thoughts meander in love, there is many a great muse from centuries past whose amorous words you can employee to woo your love.
Here are 5 famous romantic love poems that are sure to saturate the heart with thoughts of love and longing; of course, we'll be sure to end with the words of the master muse himself: William Shakespeare. But before we do, here are our top picks from Elizabeth Barrett Browning, Lord Byron, Matthew Arnold, Emily Dickinson, and Percy Bysshe Shelley–
How do I love Thee? Let Me Count the Ways
Elizabeth Barrett Browning
How do I love thee? Let me count the ways.
I love thee to the depth and breadth and height
My soul can reach, when feeling out of sight
For the ends of Being and ideal Grace.
I love thee to the level of everyday's
Most quiet need, by sun and candle-light.
I love thee freely, as men strive for Right;
I love thee purely, as they turn from Praise.
I love thee with the passion put to use
In my old griefs, and with my childhood's faith.
I love thee with a love I seemed to lose
With my lost saints,—I love thee with the breath,
Smiles, tears, of all my life!—and, if God choose,
I shall but love thee better after death.
When We Two Parted
Lord Byron
When we two parted
In silence and tears,
Half broken-hearted,
To sever for years,
Pale grew thy cheek and cold,
Colder thy kiss;
Truly that hour foretold
Sorrow to this.
The dew of the morning
Sank chill on my brow—
It felt like the warning
Of what I feel now.
Thy vows are all broken,
And light is thy fame:
I hear thy name spoken,
And share in its shame.
They name thee before me,
A knell to mine ear;
A shudder comes o'er me—
Why wert thou so dear?
They know not I knew thee,
Who knew thee too well:—
Long, long shall I rue thee
Too deeply to tell.
In secret we met—
In silence I grieve
That thy heart could forget,
Thy spirit deceive.
If I should meet thee
After long years,
How should I greet thee?—
With silence and tears.
Longing
Matthew Arnold 
Come to me in my dreams, and then
By day I shall be well again!
For so the night will more than pay
The hopeless longing of the day.
Come, as thou cam'st a thousand times,
A messenger from radiant climes,
And smile on thy new world, and be
As kind to others as to me!
Or, as thou never cam'st in sooth,
Come now, and let me dream it truth,
And part my hair, and kiss my brow,
And say, My love why sufferest thou?
Come to me in my dreams, and then
By day I shall be well again!
For so the night will more than pay
The hopeless longing of the day.
I Held a Jewel in My Fingers
Emily Dickinson
I held a Jewel in my fingers —
And went to sleep —
The day was warm, and winds were prosy —
I said "'Twill keep" —
I woke — and chid my honest fingers,
The Gem was gone —
And now, an Amethyst remembrance
Is all I own —
The Indian Serenade
Percy Bysshe Shelley 
I arise from dreams of thee
In the first sweet sleep of night,
When the winds are breathing low,
And the stars are shining bright.
I arise from dreams of thee,
And a spirit in my feet
Has led me -who knows how?
To thy chamber-window, Sweet!
The wandering airs they faint
On the dark, the silent stream –
The champak odours fail
Like sweet thoughts in a dream;
The nightingale's complaint,
It dies upon her heart,
As I must die on thine,
O beloved as thou art!
Oh lift me from the grass!
I die! I faint! I fail!
Let thy love in kisses rain
On my lips and eyelids pale.
My cheek is cold and white, alas!
My heart beats loud and fast;
Oh press it close to thine again,
Where it will break at last!
My Mistress' Eyes are Nothing Like the Sun
William Shakespeare
My mistress' eyes are nothing like the sun;
Coral is far more red than her lips' red;
If snow be white, why then her breasts are dun;
If hairs be wires, black wires grow on her head.
I have seen roses damasked, red and white,
But no such roses see I in her cheeks,
And in some perfumes is there more delight
Than in the breath that from my mistress reeks.
I love to hear her speak, yet well I know,
That music hath a far more pleasing sound.
I grant I never saw a goddess go;
My mistress when she walks treads on the ground.
And yet, by heaven, I think my love as rare
As any she belied with false compare.
>> Which is your favorite romantic love poem? Did Shakespeare take the prize again?