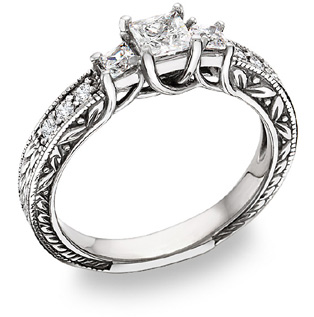 Engagement Ring Styles
What are the most basic and most popular engagement ring styles and wedding rings available at a reasonable cost today? Let's find out!
Diamond Solitaire Rings
For the most part, traditional solitaire engagement rings always make a strong showing, and most up-and-coming grooms can't go wrong with a simple, 1/2 carat or 1 carat diamond solitaire engagement ring, depending on budget. As far as engagement rings styles, shopping for a simple solitaire, quality can be more important than style or color, especially since you are showcasing a single diamond on a simple, plain band where it will stand out. After all, the diamond is the center-piece of this type of ring style.
I recommend shopping for an G or H Color diamond with an HI1-HI2 clarity rating to get the best value for your dollar, even if you opt for a 0.50 carat 0.75 carat diamond, for example, to offset costs, if a full 1 carat diamond is out of reach.
For a really magnificent white diamond, you can always upgrade to a F Color with a VS1-VS2 rating. There really is little reason to purchase a higher quality diamond, unless you have unlimited cash reserves, because you would not really be getting such great value for the cost.
Recommended Online Jewelry Stores Offering Engagement Rings
Apples of Gold – The most affordable reputable online jeweler by far–offering unique diamond engagement ring styles without sacrificing quality.
Blue Nile – There is no comparison for selection and quality of design. Blue Nile is a recognized, known brand with a vast selection. You can also create your own designs.
James Allen – Lets you design your own diamond engagement ring, with an offering of many cuts and styles, including diamonds and gemstones.
Three Stone Diamond Engagement Rings
Next up on our engagement ring styles list: The three stone diamond ring is still beholden in the eyes of brides of all ages. The three stone diamond engagement ring has truly made it into the diamond ring hall of fame. What I see more and more is the three-stone diamond ring made with princess-cut diamonds, usually in 14k or 18k white gold, or if you can afford it, platinum. This engagement ring continues to be popular.
Antique-Style or Vintage Engagement Rings 
Next on our engagement rings style list is my personal favorite: the antique-style engagement ring. This style has been all the rave for many years now and will continue to grow in popularity. Let's just face it: what has survived the test of time will look good on your finger also! There is something lost in the 'modern' look that the Victorian era, for example, knew how to accomplish with all their artistic floral motifs, paisley designs, and Art Deco sensibilities. There is just a creative flair in these styles that the sleek, plain modern band cannot surpass. But be careful, this style is not for everyone: some prefer a more simple band, and only you can tell which engagement ring styles are right for you.
Unique Colored Diamond Engagement Rings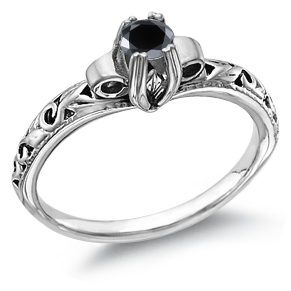 Last on the list: black diamond engagement rings, along with its cousin of style: blue diamond engagement rings. Colored diamonds do occur naturally in the Earth, but are so rare that finding one of decent carat weight will net you hundreds of thousands of dollars per carat.
What the jewelry industry does to get around this fact, is take naturally occurring white diamonds that are low in color and treating them with heat and pressure (irradiation treatment), to mimic the natural process of nature in order to change the color of the stones. The result is stunning–and affordable. Black diamonds, for example, can cost as much as 3-4 times less than a quality white diamond. Blue diamonds at about half the cost.
So which engagement ring styles are the best choice for you and your soon-to-be? That's entirely up to you!
RomanceTracker.Com Recommends: 
Apples of Gold – Affordable, Quality, Unique Designs.
Blue Nile – Quality & Selection.
James Allen – Design Your Own Diamond Ring