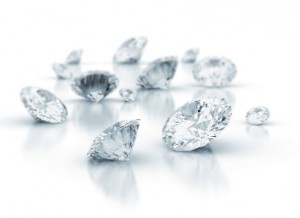 Choosing the right combination of gemstones and metal for an engagement ring is no easy task; if things manage to go right, you'll only be buying one engagement ring in your lifetime. Most men know that buying an engagement ring can be a nerve racking experience. With your lack of knowledge, how are you going to make sure you find one that your fiancé likes but is still a smart buying decision? A basic understanding of diamonds can help you find the best rock for your budget and your soon-to-be wife's fingers. Here are a few recommendations that will surely be handy when the moment comes to find the perfect engagement ring for your loved one.
The cut. The cut is especially important in determining a diamond's shape and brilliance. It's not that hard to distinguish quality craftsmanship: a properly- cut diamond will reflect light from one facet to another. If cut too deep or too shallow, light escapes from the diamond prematurely, reducing the stone's quality. For engagement rings, steer clear from shallow cut diamonds and gemstones, and go for something that is well cut and looks eye-catching from all angles (the specialty of White Pine Diamonds).
Picking out the right shape. Most people that have limited experience with jewelry aren't aware that there are quite a few different types of diamond shapes. Round, oval, heart-shaped, hexagonal, square, etc.; the options are broad and diverse. There really isn't one particular shape that works the best for engagement rings. Your best bet would be asking your fiancé about her preferences. Of course, you should do so with extreme subtlety. One of your best alternatives is asking a close friend or family member of hers for advice. If there's no one to give you advice, go for the tried-and-true shapes which are: round brilliant, princess, and emerald. You can't go wrong with either of them.
Balance between budget and quality. A diamond's cut determines most of its brilliance, and many consider it to be the most important factor when choosing a diamond. If you ask us, you should be spending most of your budget in a quality cut. We're not saying that you shouldn't pay any attention to other factors, such as the ring's metal quality and design, but to be fair, the gemstone is where most of the attention will be directed at. Ask a trustworthy jeweler to see the Gemological Institute of America's (GIA's) diamond grading report for any diamond you are thinking about purchasing. The grading will give you a rough about the diamond's true worth.
See also: Dazzling Diamond Alternatives