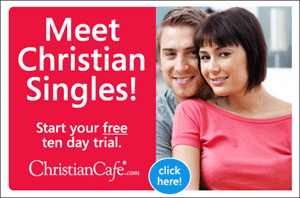 For Christians entering the dating arena, it can seem at times like tiptoeing through a minefield. With the seeming dearth of single Christians, how are we ever supposed to meet a potential spouse? For women in particular, the regular Sunday services are not the ideal or appropriate place to meet single men.
What is the answer? Do we date non-Christians in the hope that we may inspire them to turn to Jesus? Not according to the apostle Paul we don't; 'Do not be unequally yoked together with unbelievers. For what fellowship has righteousness with lawlessness? And what communion has light with darkness?' (2 Cor 6:14).
In that case, how can we expand our options and our social horizons in the hope of meeting our future husband or wife?
Here are five tips for those of you treading through that dating minefield.
1. This year why not sign up for some Christian festivals which are often attended by a wide variety of Christians, not purely from within your own denomination. A Christian music festival in particular is a great place to meet people of all ages. Music offers an ideal backdrop to forge new friendships.
2. Try different kinds of Christian worship. If you have only worshipped in one particular style or attended the same Church, it may be that a different environment will prove both stimulating and a place to meet Christians.
3. Ask your Christian friends if they know of anyone single who you may be compatible with. If they do, be bold, ask them to set you up on a blind date. What have you got to lose?
4. Register with a reputable Christian dating website. Marriages among couples who have met online are on the increase and Christians are no different. The normal rules apply if you do strike up a friendship online. Always meet in a public place, tell someone where you are going and do not divulge your personal details such as home address and so on until trust has been established.
5. Forget about it. Forget about seeking a life partner. Forget about marriage. Concentrate on the love of God and celebrate the gifts He has bestowed upon you. If you are strong on pastoral care, try some voluntary work. If you have artistic ability, register for an art class. Perhaps you possess musical talents, in which case joining a Christian band may offer a number of opportunities to meet new people. Seek to make the most of yourself. Your joy will shine through and when you're least expecting it God will send that special person into your life.
Remember God has a plan for your life; if you haven't met Mr or Miss Right yet it is because He has other plans for you. Have patience; when the time is right that special person will enter your life. Never forget to 'Trust in the Lord with all your heart, and lean not on your own understanding' (Proverbs 3:5).