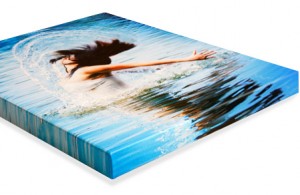 Canvas on Demand Review: Turning Memories into Art
Did you know that Canvas on Demand (www.canvasondemand.com) can turn a treasured photo into a one-of-a-kind canvas work of art? Just send them any picture—from a snapshot of your favorite feline to a cherished photo of your grandparents' wedding—and they'll print it on canvas, creating an eye-catching piece of art for your home or a unique, personalized gift.
Canvas on Demand lets you choose from several finishing options, including several styles and two sizes of gallery wrapping—how the canvas is stretched over a frame. Or, select one their floating frames in four finishes or their four styles of premium frames.
Canvas on Demand offers several options to enhance your photos for at no extra charge, including:
Converting color photos to black and white or sepia.
Simple retouching, including removing red eye and balancing color.
Addition options offered for an extra fee include:
Retouching, from removing a pimple to restoring a torn photo.
Pixel painting, which gives your photo the look of a traditional oil painting. Canvas on Demand doesn't use a filter to create this effect, however. Their artists create each one by hand using a specialized tablet and stylus.
Creating PhotoSplits, which turn a single photograph into a multi-panel grouping.
Have several pictures you'd like to turn into canvas and want to save a few dollars? Canvas on Demand has wall display options that will set you back 20 percent less than if you bought each canvas separately. They also partner with Picture Evolution, which can create a collage of many photos to be printed on a single canvas.
Prices range from $59.00 for an 8"x10" canvas with a thin gallery wrap to $540.00 for a 40"x60" canvas with a floating frame, including complimentary retouching and hanging hardware. Sign up for their email newsletter and you'll receive information about promotions and deals.
Canvas on Demand has a charitable side, too. They're trying to give away a thousand $100 gift certificates to charitable organizations across North America to auction off at fundraising events. If you're involved in a non-profit organization or have been positively impacted by one, you can fill out an application on their behalf at cool.canvasondemand.com/category/donation.
While it will cost a bit more than getting prints made at your local drugstore, a canvas work of art from Canvas on Demand elevates your photos to a new level. Consider them the next time you're looking for a meaningful gift or a unique way to preserve a memory.