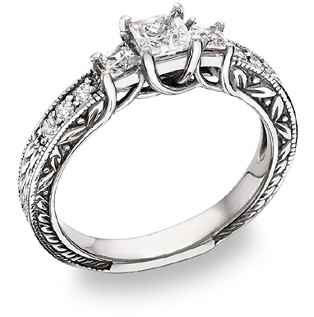 Buying diamond engagement rings online has several distinct advantages over buying them in a traditional jewelry store. Shopping online allows you to find the prefect ring to present when you pop the question on your own time and without pressure. However, the biggest advantage of browsing online jewelry stores may well be the vast selection that's just a few clicks away.
Apples of Gold carries a vast selection of gold jewelry and engagement rings online, making it easy to find what you're looking for. Their commitment to quality and value means that you can shop with confidence, knowing that you'll get only the very best, no matter what style you choose. Here are several standout styles to get you started in your search for that perfect ring:
The 3/4 Carat Diamond Circle Ring in 14kk white gold is glamorous, versatile option. A 0.40 carat center diamond is encircled and hugged by 0.35 carats of side diamonds, creating a glittering symbol of your love.
Apples of Gold's Antique-Style Diamond Ring in 14k white gold places a 1/3 carat diamond in a unique setting that calls to mind a simpler time. Its detailed cutout design makes it stand out with time-honored style. As a bonus, this ring is also available in a bridal set with a matching wedding band.
If you'd prefer a ring that harkens back to the 1920s, but with a modern twist, take a look at the 1/2 Carat Art Deco Black Diamond Ring. A stylized lotus flower opens to reveal a cool, sophisticated black diamond—a relative newcomer to the jewelry scene that gives new meaning to the term "basic black." A band adorned with a swirling design adds the perfect complementary contrast of textures, creating a ring of exceptional style.
If you'd rather look at simple, classic styles while shopping for engagement rings online, Apples of Gold's 1/2 Carat Three Stone Diamond Ring in 14k white gold is a timelessly elegant option. A quarter-carat round diamond is bookended by two smaller diamonds, creating a refined look that will never fall out of style.
The 14k white gold 1/4 Carat Cathedral Princess Cut Diamond Engagement Ring is another classic option. A single, stunning stone steals the show with undeniable grace and unquestionable class.
When you pick a reputable retailer such as Apples of Gold, you can shop for engagement rings online with confidence. You're sure to find a style that's just perfect for showing your love and that will last for many years to come.