Build Your Own Engagement Ring (w/ conflict-free diamonds!)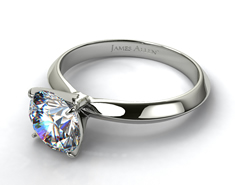 There is something thrilling about building your own engagement ring, rather than choosing from a preset style. After all, a custom-made ring is as unique as your self.
By customizing the features of your wedding ring, you are taking the time to select all of the features that are important to you, including the style, shape, cut, size, and quality of the diamond.
We Recommend: James Allen Jewelers.
Among many of the jewelers offering the Build Your Own Engagement Ring feature, we recommend James Allen.
In addition to offering all of the classic styles, such as diamond solitaires and three stone diamond rings, James Allen also offers many contemporary styles such as pave settings, channel set rings, and even engagement rings with gemstones.
$$$ Pricing is competitive at James Allen, and in addition to their full 60 Day Return Policy, they also offer a Lifetime Warranty on all of their jewelry (something that is becoming increasingly hard to find nowadays).
The process is rather easy: simply choose the style of ring you would like, select the metal type (14k, 18k, white or yellow gold, or platinum), choose your diamond, and start the "Build Your Own Engagement Ring" simple process!
Diamond Quality and Pricing Recommendations
You can also, of course, select your diamond quality, with a range of D Color (being best) to K (being worst), and IF Clarity (best) to I1 (worst). For the best value for your money, we recommend selecting a G-H Color diamond with an H1 clarity rating. Depending on your budget, you may want to go up slightly higher or lower in color and clarity rating. But we have found this is the best range in terms of good quality diamonds.
Of course, some want that perfect flawless diamond with a D-F rating and a VVS or VS clarity rating, and James Allen has it available!
Once you've selected your diamond, you can even view the GIA certificate right online! There is even a "virtual loop" that allows you to view the quality and natural inclusions of your selected diamond.
… And you are well on your way in the Build Your Own Engagement Ring experience!
Conflict Free Diamonds
Further, James Allen's diamonds are all guaranteed to conflict free! You can read more about James Allen's Conflict Free Diamond policy here.