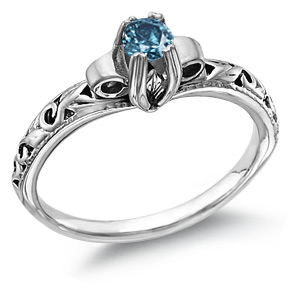 Jewelry is one of the most cherished and foolproof ways to say "I love you" or re-ignite the romance in your relationship–and a blue diamond ring from premier online jeweler, Apples of Gold, is no exception!
I just had to post about this. Check out some of the fashionable, unique styles they have available: Antique-style rings, vintage Art Deco designs and paisley patterns followed by solitaire settings in contemporary white gold, bridal sets, engagement rings, and three stone diamond rings. These are not your ordinary designs …
My favorite is the Blue Diamond 1/2 Carat Art Deco Diamond Ring (pictured left). The Art Deco collection is Apples of Gold's signature line, and they offer it in a variety of styles, including also with a traditional quality white diamond, black diamond, or blue diamond. Prices are outstanding too! A blue diamond ring offered at this online retailer can easily retail for twice that in a traditional jewelry store.  Their black diamonds are even less, starting in the mid $500s and set in 14k white gold (that's pretty hard to beat for authentic diamonds and gold from a quality jeweler). Apples of Gold has a lot of high ratings too, if you Google them, and they have been doing this since about 1999.
How is a blue diamond ring made?
Blue diamonds occur naturally in nature, but a truly natural blue diamond ring can cost upwards of $100,000+ or far greater, depending on the carat weight. Most of the blue diamonds seen on the market are natural diamonds, but they are naturally occurring white diamonds that have been heat and pressure treated (irradiated) in order to obtain their blue hue. This is the case for most colored diamonds, including black diamonds, pink diamonds, yellow or canary diamonds, etc.
So there is an added value in purchasing colored diamonds: for one thing they are extraordinarily unique and more affordable than white diamonds, but they are also "real" diamonds, not lab-created or synthetic cubic zircons, albeit, they are treated to obtain their colors.
If you are in the market for blue diamond ring, we recommend online retailer, Apples of Gold. Check out their blue diamond ring collection–you may just not want to buy anything else!